Corfu History
Corfu, Kerkira, Scheria, Phaiacia. No matter which name you chose for the island, its beauty will satisfy even the most demanding needs.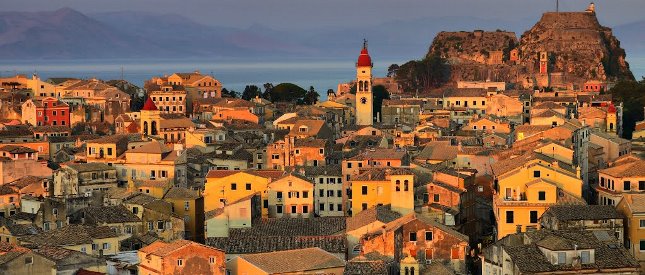 Ancient tradition identifies Corfu with the ancient Homeric island of Pheakes, the Alkinoos' kingdom.
In 229 B.C. the Romans, who have taken it over from the Illyrians, conquered the island. Normans will rule the island four times between 1081 and 1185 AC.
In 1386 Venice took it over by force from the sovereigns of Neapolis and their cooperators the Genoas. In 1797, the Venetian state was demolished and Corfu was captured by the French Republicans.
Napoleons fall in 1814 led Corfu under the riling of Britain. The British Protection was kept until 1863 and finally, with the Treaty of London, Corfu was united with Greece and was surrendered to the delegate of the Greek Government on 21st of May 1864.
Interesting Places
Corfu Town
So many things to see and do. The town of Corfu is one of the most interesting cities in Greece. It resembles an Italian city though there are other influences by the French and the British.
Palaces, fortresses, museums, libraries, galleries, churches, interesting public buildings and private mansions, archaeological sites, sites of natural and special interest, traditional houses, verdurous olive groves, picturesque ports and blue beaches make an unexpected puzzle on the area of Corfu.
Town Suburbs
Just outside the town, you can visit Mon Repo (where Duke of Edinburgh was born), go to Kanoni and then take a boat to Pintikonisi and the Vlacherena monastery.
South Corfu
When you come Corfu you have to visit the Achillio Palace, the luxurious villa built for the Empress of Austria Elisabeth (Sissi). Here Greek mythology is present everywhere. From there, you can easily go to Benitses, Moraitika, Messongi and Kavos.
15 "Must See" Sites
Liston street
Spianada Square
Old Fortress
New Fortress
Pontikonisi and Vlacherena
The Old Town
Mon Repo Palace and Paleopolis ancient site
The Town Hall – Old Opera House and Theatre
Saint Spiridon's Church
Old harbour – Mouragia – Faliraki
Kanoni
Archaeological Museum